Lake County mom turned her homemade piñatas into a party business
In a little Lake County town there is a business blooming with party paraphernalia in a small strip mall called Party Ideas by Anahi Silva.
The sparkling Clearlake storefront's window catches the eye of passersby with its display of smart and traditional Mexican party wear that begs to be worn.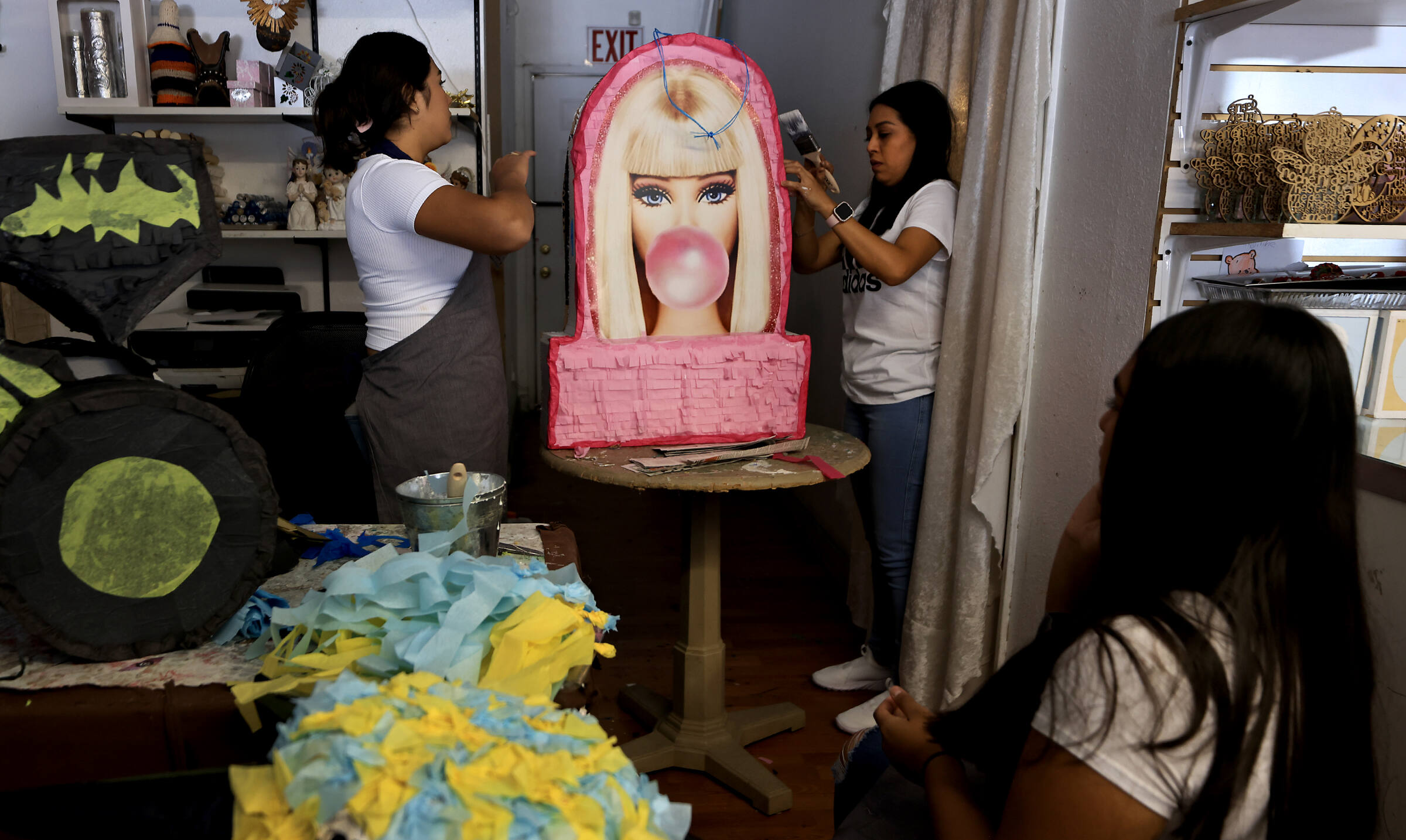 Walk inside the Lakeshore Drive store and there are a multitude of multi-colored piñatas suspended from the ceiling and a whole host of other jolly, toy-like papier-mâché figures colored in yellows, reds and greens, that will make any kid want to barter with their parents to take one home. For those looking for more sophisticated decor, tables decorated with ornate table cloths, dishes and napkins give inspiration to all types of party planners.
Anahi Silva, owner of the store, has lived in Clearlake for 10 years, a move she made after finding the area more affordable than her previous home in Santa Rosa.
Party Ideas piñatas are elaborately decorated to resemble well-known characters like Spider-Man, Barbie, Super Mario and PawPatrol characters. Others take the shape of trucks, tacos, butterflies and big numbers. All have an internal container that's big enough to hold candy or small toys, and they are made to withstand multiple whacks from adults and children alike at Mexican parties and other celebrations.
Other party items in the shop include balloons, bracelets, keychains, communion candles and other decorations for baptisms and confirmations. The business also rents out table linens and other specialty decor pieces.
Although business is still slowly recovering from the pandemic, Silva said she isn't worried because now more than ever people have reasons to celebrate milestones like baby showers, weddings and quinceañeras. This time of year is particularly busy for the small business owner and her two daughters who work at the shop. Then it slows down in December only to pick back up in the spring.
Silva said most customers shop for quinceañeras and are a big money-maker for the business.
"I hired her (Silva) to create a large balloon backdrop for photos, a beautiful backdrop for my daughter's center table, sparkly linens for her head table and her cake stand," said customer Yare Dominguez who worked with Silva for her daughter's quinceañera.
Silva feels that her business allows her to be creative, and it's a way to teach her daughters and the community at large about Mexican traditions.
Crafting a party business
Creativity has always been a family affair for Silva.
When thinking of mentors, she credits her sister and mother for embracing their own creativity when Silva was young. While the family was living in Mexico, the two would often make the piñatas for family gatherings at Christmas. It's a tradition Silva would later pass down to her two daughters, who expressed the interest to learn the craft when they were about 7 years old.
"I make traditional piñatas and this beautiful tradition is important for the 21st century because it will help young people who live in a different environment than previous generations … to give them the learning of traditions in our culture that enriches young people," Silva said.
Silva's children, all daughters, dabble in making party decorations. Her older daughters Angeline and Brisbany Garcia are in charge of building the piñatas for the business. Their sister Xiomara, who is 8, is learning now and really likes it.
"I learned by watching and then making pinatas," said Angeline. "My sister and I think it is fun, and is not like work."
Silva wasn't sure if she should enter the competition, but with the encouragement of friends, relatives and other optimistic folks, she did and won.
She received $8,000 for her presentation about a girl who was never able to have a party. The story continues with the girl growing up and becoming a woman who had magical ideas for parties.
"It was a unique experience for me and I won third place," she said. "I couldn't believe it. Even if I don't speak English and I won, and for me it was as if it were first place."
Maryann Schmid and Olga Martin Steele are the founders of 1 Team 1 Dream, which facilitates the competition.
"Spanish is her first and prominent language but she's proven that language doesn't have to be a barrier to success," Steele said. "She's an example for other businesses to follow, and her story is truly inspirational. From a little girl who always wanted a party to an accomplished woman making party dreams come true for others, Anahi is that person others want to emulate."
Her presentation was inspired by her own experience about her parents and how they did not have the resources to throw Silva a party, although they wanted to.
"I felt proud of her. It was exciting," Angeline said of her mom winning the small business award. "I feel good about her winning because even though she didn't have a party when she was little, she got to help other people by getting what they want for their parties."
Family, customers, gratitude
Many Latino families feel the success of one member is a success for all.
"This is a family recipe that, with the love of my parents, husband and children and my imagination, we make party ideas a reality," Silva said of her business. "My father, when he saw that I was real(ly) excited about creating my company, decided to give me his savings of working for 34 years in the fields so that I could start off Party Ideas."
Customers have visited Party Ideas by Anahi Silva from all over Lake, Sonoma, Mendocino and Tehama counties. Silva and her daughters love working with customers who have creative and unique ideas of their own.
"There are some party ideas and piñatas that I design, but most people show me a drawing or explain what they want and that is where my imagination comes from. I love this," Silva said.
Silva said her favorite piñatas to make are the cartoon ones.
Small business with big award
In 2021, Silva competed in Hands Up Lake County, a small-business competition where participants receive training and support in crafting business plans. Participants fine-tune their proposals and present them to a group of judges in the hopes of winning money for their business.
JP Morgan and Chase found that more Latino entrepreneurs are starting small businesses faster than the rest of the population in the United States. They estimate Latino businesses will make up 29% of the U.S. market by 2050, up from 17% today.
Most piñatas take two days to make: one to assemble, and one to dry. Silva once spent eight days working on a monster truck. When the customer picked it up, they were awe of how big it was.
"The pieces were cut, piece by piece, and it had to dry after each section. The customers wanted it to be 6 to 7 feet tall," she said.
By working hard at her business and being a role model for her girls, Silva feels that she is contributing to their futures.
She knows that her girls watch what she does day in and day out, from starting the business from the bottom up and all of the many details involved. If they choose to work in this business, or another, she's confident they will have a solid foundation on which to begin to build.
She loves showing them how strong women and girls can be in business, home and community.